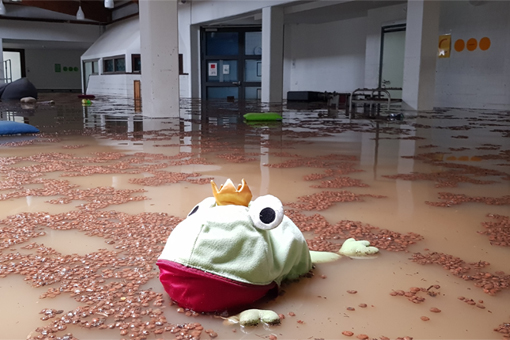 Quick and unbureaucratic flood relief: Employee donations give encouragement
22.12.2021. Rapid assistance was needed after a disastrous flood caused significant destruction in parts of Germany last summer. No less than €930,000 was raised for the people affected, thanks to the great willingness by the employees and Owner of the Friedhelm Loh Group to make donations. Now, barely five months later, two thirds of the total amount has already been given to local recipients, representing a vital lifeline in times of great need. Furthermore, things are moving forward in the projects.
When a flood of the century destroyed parts of North Rhine-Westphalia and Rhineland-Palatinate a few months ago, one thing became clear to the employees and Owner of the Friedhelm Loh Group straight away: We are going to help! Within a short time, they collected €930,000 together with Owner Professor Friedhelm Loh and the Loh family – the highest amount donated in the company's history. Rapid progress has now been made in distributing the money donated, thanks to quick and unbureaucratic action: Although the people affected are still in a state of crisis, the family-run business has already distributed around €600,000 of the total amount through the Rittal Foundation, its charitable arm, proportionally to private individuals, projects and social institutions in the fields of daycare and schools. Welfare for youth and the elderly has also been provided, and aid given to relief organisations and for psychosocial care. To this end, the foundation has been in close contact with those affected right from the beginning.
Moreover, many group employees have been volunteering in the crisis area to help in reconstruction. They are using their weekends or entire holidays to help with rebuilding in the flood areas; they volunteer with relief organisations, go on fundraising walks, and support local families through appeals for donations and they are even organising their own relief projects. Owner Professor Friedhelm Loh supports them by granting special leave or providing company vehicles.
"We consider it very important that we help together, take on responsibility and do without things personally, so that other people, including those we don't even know, have a perspective in their lives," says Professor Loh, Owner and CEO of the corporate group.
This is what happens to the donations:
Some of the money raised has gone to individuals as emergency aid. This help came early, quickly and unbureaucratically via local authorities, churches and relief organisations. This was so that families and individual households affected by the floods could be helped quickly and directly, especially in the case of those who lost all their belongings.
The Rittal Foundation also provides partial funding for the construction of schools, daycare centres and public playgrounds to give children a "second home" – a piece of normality – as quickly as possible. Thanks to the immediate relief measures, the Blandine-Merten-Haus daycare centre in Bad Neuenahr-Ahrweiler, for example, moved into temporary accommodation and bought new materials and playground equipment.
The Paul-Klee School in Leichlingen purchased new outdoor equipment with the funding. Furthermore, the school authority is planning a new building, as the present one can no longer be used. "There is a great need for a completely normal school life," says Tracey Searle-Westerfeld, who chairs the school friends' association. "But it's encouraging that others are thinking of us." The recipients also include the Donatus Primary School in Erftstadt Liblar and the Philipp-Freiherr-von-Boeselager intermediate secondary school in Ahrweiler. Here, the Rittal Foundation has provided funds for materials and educational measures.
Long-term backing
Help for the soul: Counselling and psychological support for flood victims have been another priority in distributing donations. For instance, a share of the donations went to psychosocial care for children, young people and adults, as well as to social institutions, including Caritas Euskirchen, Caritas Erftstadt and the Bethesda Foundation. The financial donations are also going to relief organisations working in the disaster area.
The remaining sum of €330,000 will be donated to projects and institutions in the flood area in the weeks and months to come. The challenge is that rebuilding cannot yet begin everywhere because of the immense damage caused.
Acting out of responsibility
Many employees of the Friedhelm Loh Group worked and are still working at the scene. For example, Dirk Heupel from Loh Services hiked almost 130 kilometres from Central Hesse to Dernau to collect donations for a young family who had lost all they had in the flood. Since the summer, he has been in the disaster area every weekend to help with the reconstruction work. Desiree Fuhs, Product Manager at Eplan in Monheim, is active in the Wipperfürth volunteer fire brigade. On the day of the disaster, she was working around the clock. Furthermore, Rittal's Technical Training team launched a private fundraising initiative for a former colleague who had moved to Ahrweiler just a few weeks earlier.
These examples show that social responsibility is lived out of conviction in the group. This is the objective of the Rittal Foundation, founded in 2011 by Professor Friedhelm Loh to mark Rittal's 50th anniversary. With an endowment capital of €40 million, its income – around three million euros so far – is distributed annually and deployed to fund charitable projects in the fields of education, integration, welfare, culture and science.