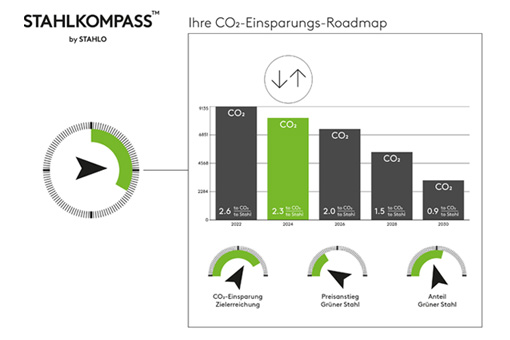 Stahlo brings digital transparency to the supply chain
From the carbon footprint to the circular economy – for large industrial challenges, steel almost always makes the difference when such energy-intensive material is processed into products. Not only new processes are needed for green steel, but also independent and standardised documentation along the entire supply chain. Stahlo, as an independent steel service centre, presents new possibilities at Blechexpo: the Stahlo Steel Compass for determining emissions and the Digital Material Passport (DMP).
Dillenburg, 27 October 2023 – Almost all companies are currently working intensively to precisely understand their carbon footprint and document it up to "Scope 3". This is the prerequisite for improvement. Larger corporations are increasingly demanding such figures from their suppliers. Considerable optimisation levers lie in the field of purchasing energy-intensive products, such as steel. "Transparency and reliable data are the necessary basis for optimisation," says Oliver Sonst, Managing Director at Stahlo: "As an independent steel service centre, we have built expertise and market overview for green steel, and established a neutral assessment system for carbon in steel. With Steel Compass, we make the data easily accessible to our customers so they can work with it and we can make suitable procurement suggestions."
Steel Compass for emission values in the supply chain
With Steel Compass presented at Blechexpo, Stahlo provides its customers with the status quo of Scope 3 emissions of deliveries from 2022 and then presents future optimisation options. The Compass provides a precise overview of the available carbon-optimised flat steel products that the steel service can procure. This works fully transparently not only for individual deliveries, but also as a planning tool. The market overview with reliable figures helps to identify different paths and varieties for achieving the climate objectives, and also to assess them economically. Consequently, with Stahlo's support, customers plan not only the emission savings for future years, but also the required budget.
Digital passport for steel coils
Circular economy, carbon values and material data for quality: there are many good reasons why digital transparency across all stages of the entire supply chain is a declared objective of the industry. Stahlo does the ground-work for steel: the new Digital Material Passport (DMP) is more than a PDF replacement for the usual material test certificates. Because all data is also held in machine-readable form, recipients can work with the data using their software solutions without media discontinuity via their integration solutions or, for example, via pre-configured adaptors for ERP systems, such as SAP.
Notarisation in the blockchain ensures reliability with official document properties. Stahlo's Digital Material Passport initially provides not only values for chemical analysis and mechanical properties, but also specific product emission data.
"We are convinced that the relevance of such standardised data records and their information content will increase," explains Sonst: "The faster we establish transparency at every processing stage, the closer we achieve the objective of end-to-end documentation – provided we succeed in ensuring interoperability and data sovereignty." Catena-X, the open ecosystem for the entire supply chain in the automotive sector, is particularly far advanced and best known in this respect. "Therefore, compliant data transfer to such ecosystems, for example of carbon emission values, is an obvious development objective for us," concludes Sonst.
For more information, visit: https://www.stahlo.de/en/steel