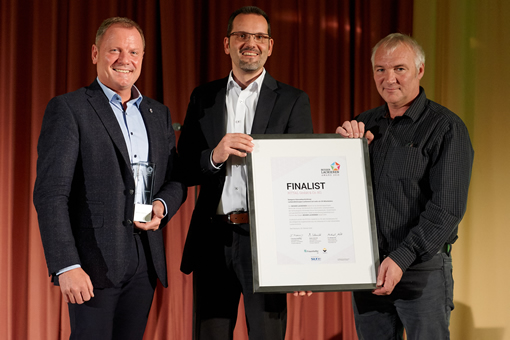 Rittal receives special award for digital transformation at paint shop
Rittal's drive for ever-greater digital connectivity has been recognised by the judges of the Besser Lackieren ("Better Painting") awards, a highly coveted accolade in the German painting industry. The business received the newly created special prize for digital transformation at its advanced paint shop at its plant in Haiger, Germany. The Besser Lackieren awards are an annual competition organised by Fraunhofer Institute for Manufacturing Engineering and Automation IPA and the editorial team of industry magazine Besser Lackieren.
"Rittal's boldness and expertise have made an impression: the enterprise has made the smart-factory vision a reality at its new paint shop. The implementation of state-of-the-art technologies sets new standards and represents a quantum leap forward in industrial coating," explained the judges. At the award ceremony on 9 October in Bad Nauheim, the judging panel, comprising experts from business, science, media and politics, chose the best and most innovative in-house painting units and contract-coating companies – including Rittal – from a total of some 70 entrants.
"We are delighted to be blazing a trail, and to be the first recipient of the newly created special award," stated Heiko Denner, Project Leader, Surface Technology, at Rittal, who accepted the award in person. He explained how they took a pioneering approach to the paint shop, collaborating with partners to overcome a number of hurdles by developing their own solutions – including, for example, for automatically measuring surfactants online.
High-tech meets high-quality: the paint shop
In accordance with the criteria of VDMA's (the German Mechanical Engineering Industry Association) "Toolbox" section of their Industry 4.0 guideline, Rittal's paint shop scores a rating of 97 per cent for digital connectivity – and delivers quality in line with the needs of the automotive industry.
The paint shop is part of a new plant in Haiger, where Rittal has built one of the world's most advanced, digitally integrated production plants for the manufacture of its new AX and KX compact and small enclosures. Up to 8,000 AX and KX units and 4,500 bases/plinths for VX25 large enclosure systems are coated daily in the four-storey paint shop.
One example of how the paint shop puts Industry 4.0 concepts into action is the use of sensors and actuators for data capture – as the basis for automated process control, real-time diagnostics, and timely detection of system failures.
Coating in the Industry 4.0 era
The paint shop can be managed entirely by means of a tablet. However, alerts are automatically generated if manual intervention becomes necessary. Workers have direct access to technical documents for each individual part, as well as operating manuals and instructions, wiring diagrams, and even videos. 16 cameras simplify monitoring for equipment operators. In addition, staff njoy digital connections to suppliers – whose support team can then get to work immediately, reviewing the situation with the help of an Xpert Eye headset. These enable remotely located professionals to see exactly what the on-site wearer does in real time – allowing the provision of guidance for maintenance and troubleshooting.
Expensive downtime can therefore be minimised. What is more, digital transformation at Rittal is not only enhancing quality and cutting costs. The deployment of machine learning and knowledge management for paint-shop and process optimisation, for example, delivers an entirely new level of resource conservation.
"This award confirms that we are on the right track: a pioneering mindset when it comes to digital transformation generates tangible results. It has significant advantages for us and for our customers – for example, in terms of quality and availability, in conjunction with process reliability," underscores Carsten Röttchen, Managing Director, International Production, at Rittal.