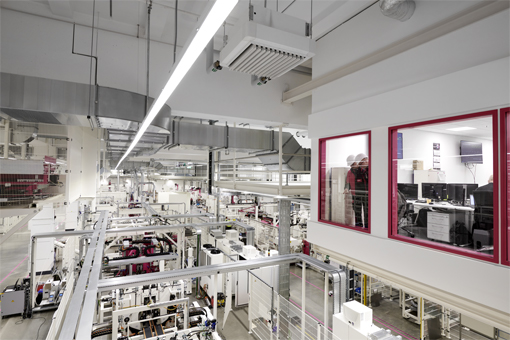 Friedhelm Loh Group bundles expertise: German Edge Cloud is formed from three start-ups
Three companies in the Friedhelm Loh Group – German Edge Cloud, IoTOS and iNNOVO Cloud – have now become one. The expertise of the companies in the IIoT, cloud and edge computing markets, is now being powerfully combined in German Edge Cloud (GEC). The merger has two main focuses: Customers in the manufacturing industry will gain significant efficiency advantages from the company's edge cloud solutions, for example through data analytics and will maintain full data sovereignty. Secondly, as a cloud automation partner, GEC permits the migration and automation of customer applications in multi-cloud environments, as well as enabling secure, Gaia-X compliant and highly available operation.
Edge Cloud has made a name for itself with its ONCITE solution. Founded within the Friedhelm Loh Group, the company offers the first turnkey edge cloud data centre for the smart analysis of production data and the networking of factories globally. With ONCITE, customers make their data available quickly, easily and securely in networked environments and use it to add value through data analytics, in a data sovereign manner that is independent of a cloud platform. This solution offers one major competitive advantage, especially for manufacturing companies: Digital transformation by edge computing in combination with secure connections to public and private clouds is just as important as constant process improvement.
With the expertise from the previous sister company iNNOVO Cloud, the company employs specialists in the automation, migration, operation and service of distributed applications in multi-cloud architectures. The range of products and services of the former iNNOVO covers everything from edge platforms such as ONCITE to its own virtual private and public cloud solutions. German Edge Cloud is now benefiting from iNNOVO's many years of experience as a stable cloud platform service provider for the fintech and banking sector. Customers choose platform and service components from a modular system and is thus able to precisely tailor the solutions to their needs. This means that customers can also rely on professionally managed services and round-the-clock operation seven days a week, both in industry and in other sectors and business areas.
The offers are rounded off by software applications and integration services from the former IoTOS. Expertise in industry-specific IT landscapes, complex production control and in manufacturing execution systems (MESs) is available for customers. The German Edge Cloud supports them in facing the challenges in their quest to implement the Industrial Internet of Things (IIoT).
All-all-in-one solutions from a single source
With this unique combination in its array of solutions, German Edge Cloud is now a full-service provider. It offers services ranging from consulting to implementation to the operation of software applications on customer-owned clouds, a hyperscaler cloud or on GEC's own cloud or edge infrastructure, without any vendor lock-in. Dr Sebastian Ritz, Managing Director the German Edge Cloud said: "Since we offer everything from a single source, our customers receive a consolidated solution for heterogeneous data landscapes and the corresponding expertise. Previously, customers had needed several different partners, for example a system house, a service integrator and a consulting company. At the same time, we operate as a cloud automation partner for software companies."
"We are focussing on open, rapidly deployable and data-sovereign edge and cloud solutions," explains Dieter Meuser, who is also a Managing Director of German Edge Cloud: "German Edge Cloud's solutions are modular and scalable. This will allow our customers to react to changing market needs at any time, in the future too."
Data sovereignty for industry and GAIA-X
"Digitisation and creating value through data is a prerequisite for future viability and international competitiveness, especially in manufacturing industry," says Professor Friedhelm Loh, Owner and CEO of the Friedhelm Loh Group: "When they are networking via clouds, companies want to maintain full control over their data and protect their top asset: their expertise. German Edge Cloud offers turnkey solutions for this."
The entrepreneur recommends what is being used in the Friedhelm Loh Group: "When setting up our digitally integrated production at Rittal's new factory in Haiger, we had the need for data analytics with full data sovereignty. No less than 18 terabytes of data are generated here every day. We want to use this data to create value. We have developed the first solution for this with German Edge Cloud, and are now also supporting our customers in this future task."
The ONCITE edge cloud data centre is making a decisive contribution to the development of a secure European data infrastructure with its deployment at customers. With its German Edge Cloud subsidiary, the Friedhelm Loh Group is one of the founding members of GAIA-X. Professor Loh was one of the initiators of this major project, which was launched by Peter Altmaier, Germany's Federal Minister for Economic Affairs and Energy in autumn 2019.
GEC, which is embedded within the Friedhelm Loh Group, draws on its sister company Rittal's knowledge of industry and the high-quality edge hardware. As a result, the solutions can also be used by customers in tough industrial environments and with the most stringent demands. Thanks to the use of ONCITE at the Rittal factory in Haiger, GEC can draw on a wealth of experience and is aware of the typical hurdles and special requirements of customers in manufacturing industry. It knows what matters.